You know what? I didn't do as badly as I had anticipated I would last month. While it was not an overwhelming success, it wasn't a total failure either.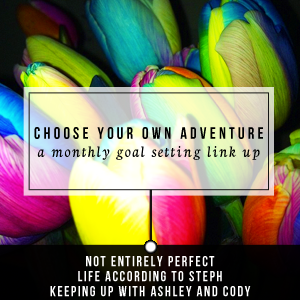 Here are my goals and how I did:
Do and review a bunch of prenatal workout DVDs-- ummm.... not great. But not bad either! I did 2 out of the 6, and one of them I did a few times! I count that as a success, especially since I was on an all-things-pregnancy hiatus for the last week of the month (for obvious reasons). I'm going to keep going too; I'll write that review post if it kills me!
Budget and/or save money for the MuTu System-- good! Sarah (being the awesome person that she is) told me that MuTu will do sales sometimes, and so not to pay full price. I took her advice, and signed up for their mailing list. Lo and behold, a week later I got an email with a code for 15% off! Victory! I think I'll buy it for myself in November.
Bonus Points-- I signed up for a yoga class at work. It meets every Tuesday during lunchtime, and I've gone every week thus far! It helps that it's only one floor up from me, and F-R-E-E is always a good price. I really like it though!
October's challenge is food. Once again, I'm keeping it simple but meaningful with my goals. This month I only have one goal, but it's going to be a lot of work:
Input all of my random-ass, floating-around recipes into my HotPot app, and edit the ones that are already in there to mirror the way I actually make them-- I love my HotPot app. It's one of the very few apps that I've actually paid for, and I'm not sorry about it. It manages all of my recipes (in theory) in one place, helps me meal plan, makes me a shopping list, and I can prop my iPad up on the counter to use as a recipe card without worrying about getting marinara splashes all over the cards (oops). It's really easy to input recipes from websites into the app, and I've done that. But I still have a lot of recipes that I've gotten from my mom or from friends that I just have in a regular recipe book. Those I'll have to input by hand. I've wanted/needed to do this for awhile, but lord is it going to be a PITA. I think if I can get this done this month, it will be a major victory for my life.
Fingers crossed!